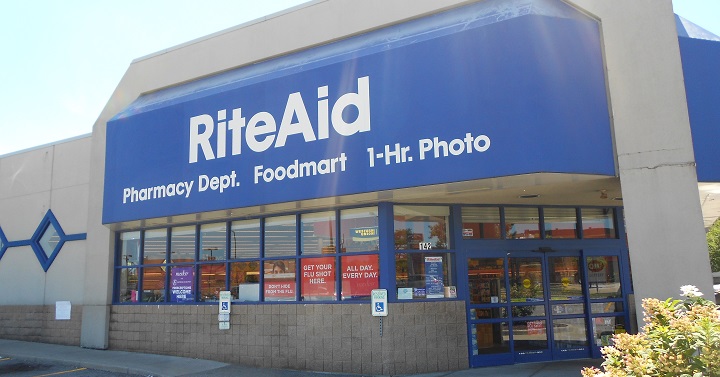 Here are this week's matchups, coupons and weekly deals from Rite Aid! This list has every single deal in the weekly ad, but if you want to see the BEST Rite Aid deals, look for items with a

next to them.
Not sure how to use these lists? . Make sure you and download the app so you can take your grocery list with you on your phone when you head to the store!
Planning to shop somewhere else this week? Check out all of the matchups and weekly deals from your favorite stores or for specific products or brands.
Multi-Item Deals
Buy 1 participating Dixie, Wet Ones, Mardi Gras or Vanity Fair item, get 1 Free; Mix & Match
Includes: Select varieties
Plenti Points
Buy $15 in participating Back to School products, Get 500 Plenti Points ($5.00), Limit 2
BiC Writing Supplies – $1.99
Includes: Select varieties
$1.00/2 BIC Stationery Products – 8-6-17 SS (exp. 09/02/17)
Out-of-Pocket Price: $1.49
Buy 2; Use $1/2 coupon; Combine with $15 of participating products to earn $5 Plenti Points Rewards
BiC Writing Supplies – $3.99
Includes: Select varieties
$1.00/1 BIC Xtra-Fun Pencil Product – 8-6-17 SS (exp. 09/16/17)

$1.00/2 BIC Stationery Products – 8-6-17 SS (exp. 09/02/17)

$1.50/1 BIC Gel-Ocity Gel Pen Product – 7-23-17 SS (exp. 08/19/17)
Out-of-Pocket Price: $2.49
Final Price: $1.24
Buy 4; Use (4) $1.50/1 coupons; Includes $5 Plenti Points Rewards
Mead 5 Star Products – B1G1
Includes: Select varieties
$1.00/2 Five Star Products – 7-30-17 SS (exp. 09/30/17)

$1.50/1 Five Star Binder – 7-30-17 SS (exp. 09/30/17)

$2.00/2 Five Star Reinforced Filler Paper or Reinforced Printer Paper Products – 7-30-17 SS (exp. 09/30/17)
Mead Composition Book – $0.66
3/$1.98 ( or $0.99 each)Includes: Select varieties
Mead Notebook, 70 ct – $0.66
3/$1.98 ( or $0.99 each)Includes: Select varieties
3M Command Fasteners – 25% OFF
Includes: Select varieties
3M Command Hooks – 25% OFF
Includes: Select varieties
3M Mailing Products – 25% OFF
Includes: Select varieties
Includes: Select varieties
BiC Writing Supplies – $2.99
Includes: Select varieties
$1.00/1 BIC Xtra-Fun Pencil Product – 8-6-17 SS (exp. 09/16/17)

$1.00/2 BIC Stationery Products – 8-6-17 SS (exp. 09/02/17)

$1.50/1 BIC Gel-Ocity Gel Pen Product – 7-23-17 SS (exp. 08/19/17)
Out-of-Pocket Price: $1.49
Buy 1; Use $1.50/1; Combine with $15 of participating products to earn $5 Plenti Points Rewards
Crayola Products – 25% OFF
Includes: Select varieties
Dixon Writing Supplies – $1.99
Includes: Select varieties
Papermate Products – $2.99
Includes: Select varieties
$0.75/1 Paper Mate Pens and Mechanical Pencils – 6-4-17 SS; Includes 2 ct or Larger Only (exp. 09/17/17)

$0.75/1 PaperMate Pen or Pencil – 7-30-17 SS; Includes 2 ct or Larger Only (exp. 09/24/17)

$1.00/1 Paper Mate Inkjoy Gel Pen – 6-4-17 SS; Includes 2 ct or Larger Only (exp. 09/17/17)
Out-of-Pocket Price: $1.99
Buy 1; Use $1/1; Combine with $15 of participating products to earn $5 Plenti Points Rewards
Papermate Products – $3.99
Includes: Select varieties
$0.75/1 Paper Mate Pens and Mechanical Pencils – 6-4-17 SS; Includes 2 ct or Larger Only (exp. 09/17/17)

$0.75/1 PaperMate Pen or Pencil – 7-30-17 SS; Includes 2 ct or Larger Only (exp. 09/24/17)

$1.00/1 Paper Mate Inkjoy Gel Pen – 6-4-17 SS; Includes 2 ct or Larger Only (exp. 09/17/17)
Out-of-Pocket Price: $2.99
Final Price: $1.74
Buy 4; Use (4) $1/1 coupons; Includes $5 Plenti Points Rewards
Papermate Writing Supplies – $1.99
Includes: Select varieties
$0.75/1 Paper Mate Pens and Mechanical Pencils – 6-4-17 SS; Includes 2 ct or Larger Only (exp. 09/17/17)

$0.75/1 PaperMate Pen or Pencil – 7-30-17 SS; Includes 2 ct or Larger Only (exp. 09/24/17)
Out-of-Pocket Price: $1.24
Buy 1; Use $0.75/1; Combine with $15 of participating products to earn $5 Plenti Points Rewards
Pentel Writing Supplies – $1.99
Includes: Select varieties
Pentel Writing Supplies – $2.99
Includes: Select varieties
Out-of-Pocket Price: $1.99
Buy 1; Use $1/1; Combine with $15 of participating products to earn $5 Plenti Points Rewards
Pentel Writing Supplies – $3.99
Includes: Select varieties
Out-of-Pocket Price: $2.99
Final Price: $1.74
Buy 4; Use (4) $1/1 coupons; Includes $5 Plenti Points Rewards
Printworks Multi-Purpose Printer Paper, 200 ct – $1.99
Includes: Select varieties
Select Back to School Stationery Supplies – $0.99
Includes: Select varieties; Elmer's School Tape, Glue Sticks, Mead Notebooks & Folders pictured
Includes: Select varieties; Avery pictured
Select File Folders – $4.99
Includes: Select varieties
Includes: Select varieties
Includes: Select varieties
Includes: Select varieties
$0.55/1 Sharpie Highlighter Pack – 7-30-17 SS; Includes 2 ct or Larger Only (exp. 09/24/17)

$0.75/1 Sharpie Permanent Marker – 7-30-17 SS; Includes 3 ct or Larger Only (exp. 09/24/17)
Out-of-Pocket Price: $2.24
Buy 1; Use $0.75/1; Combine with $15 of participating products to earn $5 Plenti Points Rewards
Includes: Select varieties
$0.55/1 Sharpie Highlighter Pack – 7-30-17 SS; Includes 2 ct or Larger Only (exp. 09/24/17)

$0.75/1 Sharpie Permanent Marker – 7-30-17 SS; Includes 3 ct or Larger Only (exp. 09/24/17)
Out-of-Pocket Price: $3.24
Final Price: $1.99
Buy 4; Use (4) $0.75/1 coupons; Includes $5 Plenti Points Rewards
Sharpie Writing Supplies – $1.99
Includes: Select varieties
$0.55/1 Sharpie Highlighter Pack – 7-30-17 SS; Includes 2 ct or Larger Only (exp. 09/24/17)
Out-of-Pocket Price: $1.45
Buy 1; Use $0.55/1; Combine with $15 of participating products to earn $5 Plenti Points Rewards
Shurtech Tape and Mailing Products – 25% OFF
Includes: Select varieties
Thermos Lunch Kits – 25% OFF
Includes: Select varieties
Trapper Keeper Products – B1G1
Includes: Select varieties
Zebra Writing Supplies – $2.99
Includes: Select varieties
Zebra Writing Supplies – $1.99
Includes: Select varieties
Buy $30 in participating Craig, Duracell or ESI Cell Accessories, Get 800 Plenti Points ($8.00), Limit 2
Craig Cell Accessories – Prices Vary
Includes: Select varieties
Duracell Cell Accessories – Prices Vary
Includes: Select varieties
ESI Cell Accessories – Prices Vary
Includes: Select varieties
Backpacks & Lunchboxes
Assorted Backpacks – 50% OFF
Includes: Select varieties
Assorted Lunch Kits – 50% OFF
Includes: Select varieties
Office Supplies
Assorted HP, Canon or Epson Ink – $19.99 – $49.99
Includes: Select varieties
Includes: Select varieties
Rite Aid Home Envelopes, Filler Paper, Index CArds, Notebooks, Tablets and Calculators – B2G1
Includes: Select varieties
Rite Aid Home brand Gift Wrap Tape – $0.79
Includes: Select varieties
Includes: Select varieties
Tech & Gadgets
Craig 19 inch LED TV – $69.99
Includes: Select varieties
Includes: Select varieties
Includes: Select varieties
Select Electronics – $9.99
Includes: Select varieties
Select Electronics – $39.99
Includes: Select varieties of Boom Boxes, Home Connect, Cannon Printer and more
Writing School Supplies
BiC Mechanical Pencils, 10 ct – $1.50
2/$3 (or $1.99 each)Includes: Select varieties
$1.00/2 BIC Stationery Products – 8-6-17 SS (exp. 09/02/17)
Out-of-Pocket Price: $1.00
Buy 2; Use $1/2 coupon
2/$3 (or $1.99 each)Includes: Select varieties
$1.00/2 BIC Stationery Products – 8-6-17 SS (exp. 09/02/17)
Out-of-Pocket Price: $1.00
Buy 2; Use $1/2 coupon
2/$3 (or $1.99 each)Includes: Select varieties
$1.00/2 BIC Stationery Products – 8-6-17 SS (exp. 09/02/17)
Out-of-Pocket Price: $1.00
Buy 2; Use $1/2 coupon
Playskool Crayons, 24 ct – $0.79
Includes: Select varieties
Miscellaneous
Back to School Domestics – 50% OFF
Includes: Select varieties
Select Electronics – 50% OFF